Albion Online Current State of Black Zones
This post is dedicated to the players and general public about what is currently going on in the game during this test. I personally just hit 7.3 and dont plan on grinding much in the near future.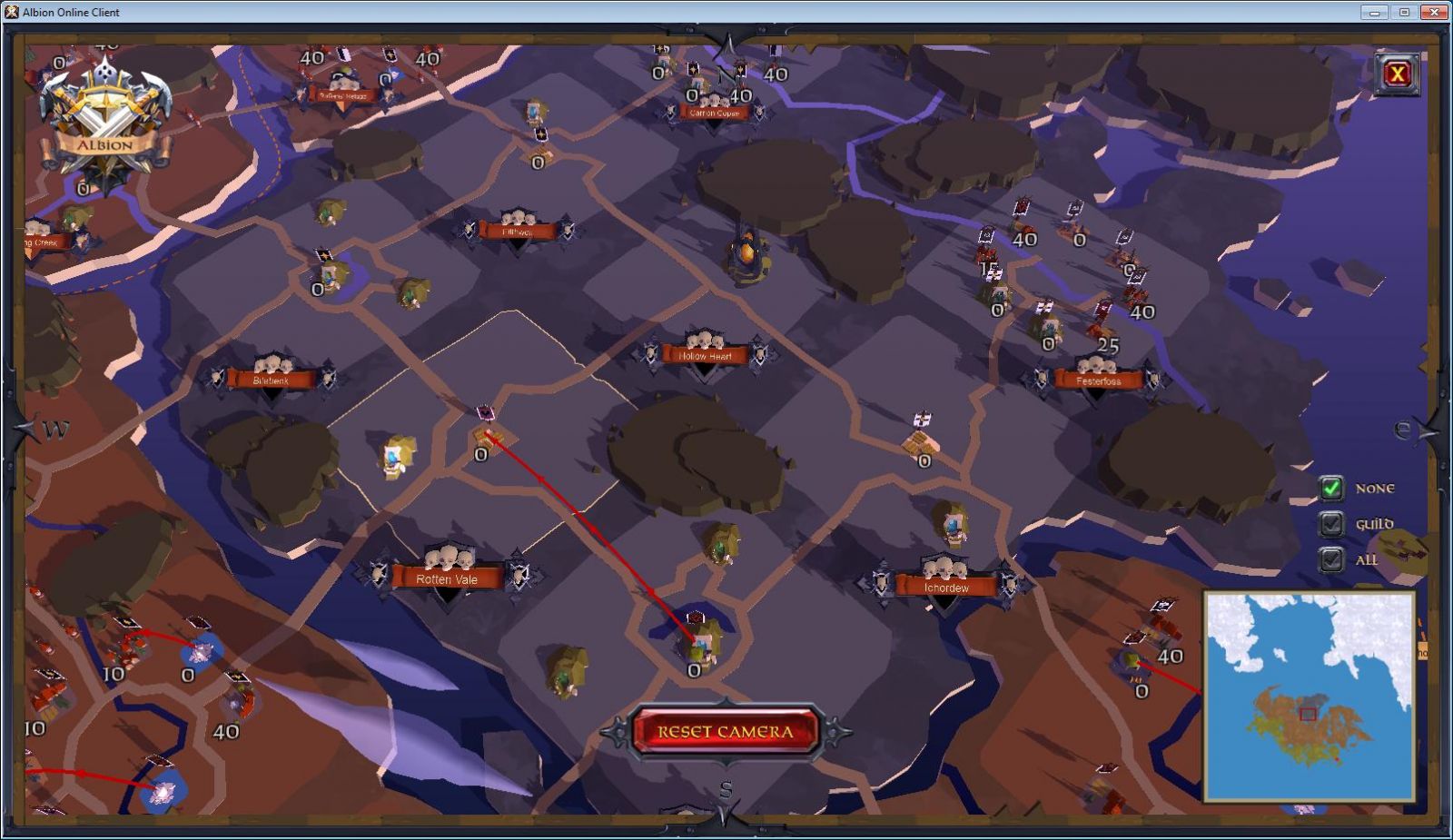 So a little history about Black Zones. They were introduced in the last two weeks of Summer Alpha. They are awesome. Period.
However it became increasing apparent that controlling these gives a huge advantage the the guild that controls it. Within two days Finstack, Nilfguard, Black Cocks, Hammer and Sickle, and Vendetta were able to get an entire gear tier ahead of other guilds. Everyone knew that these zones were insane. What wasn't known is that these zones were 100% necessary to progress.
In Summer Black Zones were nice but weren't entirely necessary. Before you could gear progress from 4.3 to 5.4. Now the process is (correctly) 4.3 to 5.3 and so forth. Now after a little over a month the only progression that takes place can only happen in 18 different zones. That's less than a 1/10th of all the zones currently in the game.
This issue is actually in its infancy stage. Probably 3% of the community is in 7.3 gear and another 10%-15% is in 6.3 gear. That means that currently only roughly less than 20% of the community of actives players at max are currently dealing with this issue. But what happens a month down the road from now? When more any more of the community reach this big hurdle? This problem is only getting started and will get significantly worse exponentially as time goes on.
Here's where the problem gets more complicated. Control of the Black zones.
No I don't mean that territory you can fight for in a black zone. Controlling that territory isn't anything to Control of the zone. Controlling the territory makes Control of the zone easier. The real Control of a zone is naked scouting.
If you own the zone it is very easy to keep placing naked scouts in every entrance is a Huge advantage. Not only can you tell who goes in and out of every zone and more importantly the blue dungeons, but it allows groups of 3-4 to farm these raid dungeons with Glacial staffs in their best gear with Zero fear of dying. Any large group that enters the dungeon is seen by a scout and signals the players inside to log off. Then the entire alliance is called to clear the other group out of the dungeon. Its a flawless clever use of mechanics.
However this model is being slowly perfected by the controlling guilds. I don't have much information on Money Guild and Nilfguard since I don't live near there but on the East Island these zones are farmed like clockwork. Homeland Security are geniuses. Plain and simple. They used to have all 3 of the blue dungeons on timers so that they constantly farm them with no delay (now they have to compete with KDS and HI alliances for Fungal). You may ask "How are they the only ones farming these dungeons?" From my sources in INC I learned that after the 13th patch, these 37 players were the only people allowed in these dungeons by INC. Last night on the popular player DemonEnder's stream, a couple of players from the Strats GvG team tried farming one of these zones. Players from Homeland Security immediately dropped guild so they kill the Strats players who were in the same alliance. Hammer and Sickle the leader of the alliance in response Punished the Strats players for messing up the dungeon rotations for Homeland Security.
This may seem harsh but its the evolution of competitive GvGs in Albion. INC is smart for this approach.
So my question is, If players from the same alliance cant even farm these recently buffed dungeons, how do normal smaller guilds that have minimal support supposed to level up to 7.3 with the current game mechanics. Simply they cant.
SBI has promised to add new continents to solve the problem. This wont solve the problem...
The reason why is simple. The current set up of most black zones is that they are centrally located. Everyone is fighting for these black zones and because of the fact they are connected, it is possible for a single guild/alliance to control almost all of them. Having this monopoly will kill the game for the majority of players.
I know they are adding more black zones next patch but here are some recommendations to how they should be placed
Possible Solutions
Black Zones should surround all edges of a map. Should not be centrally located. Very hard to create that "monopoly".
50% of Black zones shouldnt be controllable (Like Hollow Soul). Especially the ones with blue dungeons. This will make naked scouting much harder.
Some Black Zones should be 5-6 zones away from a city. This will favor solo players farming is less traffic areas.